Lesezeit:
10
Minuten
This article is about the E-Visa, which is applied for before the start of the journey and also about the On-Arrival-Visa, which is issued directly at the airport in Iran. Since the exact procedure of the application is described everywhere very inaccurately, I have here all important steps as well as necessary documents summarized. In addition, all questions about the reference number, entry into the USA or Israel and correct foreign travel insurance are clarified.
Diesen Beitrag gibt es auch auf Deutsch! 🇩🇪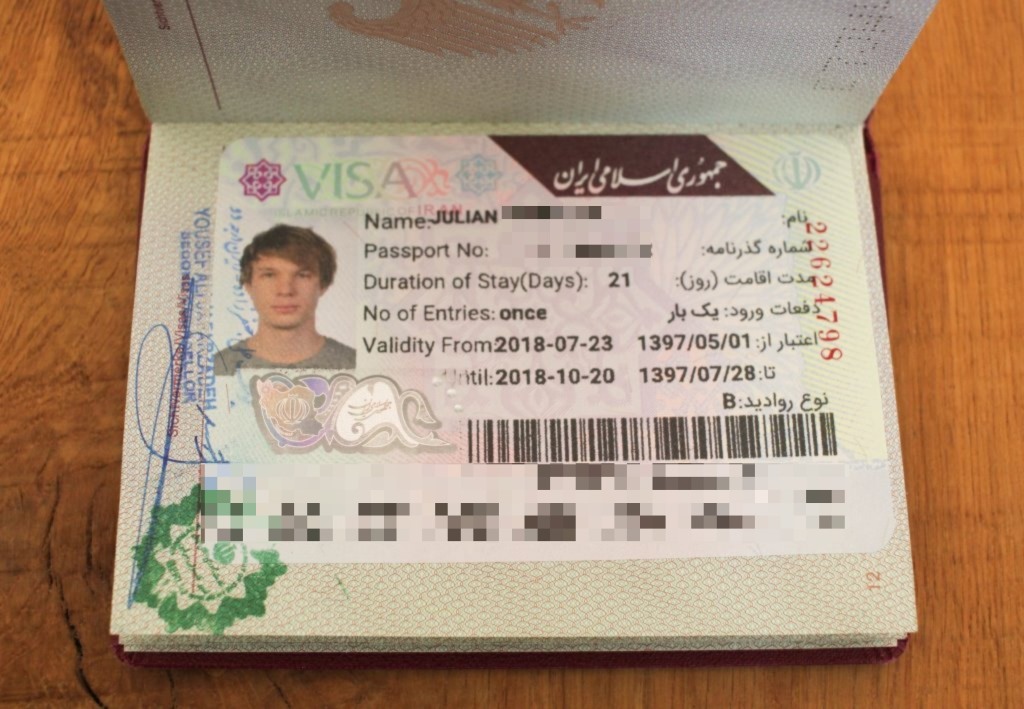 🛂 Iran Visa Types
Basically there are five different visa types and the most significant are the tourist and the business visa. All five can be applied online and require, with exceptions, basically the same documentation.
Tourist Visas
The tourist visa can be applied for either in advance or as an on-arrival visa and allows a one-month trip through Iran. Due to the opening of Iran, the application process has become relatively simple. The tourist visa can also be applied for quite easily.
Business Visa
A business visa is required for business trips to Iran. This entitles the holder to business negotiations and conversations as well as to attend seminars and conferences. A partner company is necessary as it has to apply for the visa. The costs vary depending on the number of entries and the duration of the visa. This visa requires an additional permit from the Iranian Ministry of Foreign Affairs and is valid for up to one year.
Press Visas
To apply for a press visa, the embassy in Berlin must be contacted. The Embassy will need all the documents listed below and will then coordinate the visa issue with the Embassy's press attaché. A visa is usually issued for 7 days and is only extended to a total of 10 days with the exception of this period. This visa also requires a certificate from the employer and a reference number issued by the ministry. To speed up the application, a member of staff from the Ministry of Culture and Islamic Leadership can be contacted.
Student Visa
For studying in Iran, a visa is required, which is issued in consultation with the respective university. The Iranian consulates differentiate between the duration and the number of entries and exits. The application can take up to six months, which is why a timely application is necessary. A reference number issued by the university is required for this visa.
Transit Visa
To my knowledge, the transit visa was abolished because the same documents were required as for a tourist visa and Iran is very rarely used as a transit stop. The only difference to the tourist visa was the maximum stay of 48 hours.
📝 Visa documents
In order to save you the trouble of having to organize documents later on, I have compiled all necessary documents for the E-Visa and On-Arrival-Visa for you. Pay special attention to the exact dimensions of the passport photo and the passport scan. Otherwise problems can occur afterwards with the issue of the visa or even with the entry.
Biometric passport photos
You can have the photos created in any photo studio or simply take them yourself in front of a white wall. It is important that your face covers 70-80% of the picture and that you exactly follow the measurements given. The photo must be in JPEG (.jpg) format, cut to 400×600 pixels and smaller than 240kB. The Iranian Embassy offers you a guide here.
Purchase a travel insurance
You need a travel insurance for Iran. So you have to call the travel insurance after you have taken out the insurance and ask for a confirmation. The confirmation must be in English and must contain "Iran" instead of "Worldwide". Your visa will not be issued without this confirmation! A good travel insurance for Iran can be found here.*
Scan your passport
For the online application of your Iran visa you need a scan of your passport. It is important that you only scan the first page of your passport and that you cut it to 800×600 pixels. The format must be JPEG (.jpg) and the file size smaller than 500kb. The Iranian Embassy also offers a guide for passport copies.
Book a accommodation
Since the e-visa requires an Iranian telephone number and address, you must book accommodation for the first night in advance. For individual travellers and backpackers one night in a hostel is sufficient as confirmation. You can book this comfortably via "Hostels in Iran". After receiving the confirmation within 24 hours, you can write down the phone number and address for your visa. You can theoretically cancel the accommodation afterwards, but you will need accommodation after your arrival anyway.
Plan your trip
The new Iranian visa requirements state that you must submit a travel program with your application. This requirement is new, so I don't have any experience reports. However, a travel route has already been requested before and it was always sufficient to give a rough route. I myself wrote "Teheran – Isfahan – Shiraz" and in the end I travelled quite differently. If this is not enough, you can add the approximate travel days to the itinerary.
Write your curriculum vitae
The new Iranian visa requirements also require you to submit a resume with your education and professional background when applying for a visa. Since the resume is only required since a short time, I don't have any experience reports. However, I strongly assume that a short list of the most important points will suffice.
💶 Costs & Duration Visa
The cost to apply for an Iran visa is between 50€ and 275€, depending on the processing time and whether you organize it yourself or use a visa agency. The prices only include the visa. The costs for passport photos and postage as well as travel insurance are not included.
Depending on how fast you have to go, it can take from one working day to two weeks. Please note, however, that delays may occur for unknown reasons. More detailed information on the time schedule for self-organization can be found below.
self-organized
50€ (~2 Weeks)
75€ (~1 Week)
travel agency
110€ (~3 Weeks) +120%
275€ (~1 Week) +265%
However, I do not recommend visa agencies here, as they are unnecessary and way too expensive. In addition, most agency staff do not know anything about Iran visas and in the end only do what you can do yourself quickly. For example, I was sent an "invitation letter" for a request for entry, which is allegedly absolutely necessary. The "invitation letter" was then the normal e-visa application with reference number.
What is a reference number?
The reference number is the tracking number of the e-visa, which is displayed at the end of the online application. You will also receive an e-mail in which the number will be displayed again. This number is mistakenly sold by visa agencies as an "invitation letter". You will find the exact procedure for obtaining your reference number below.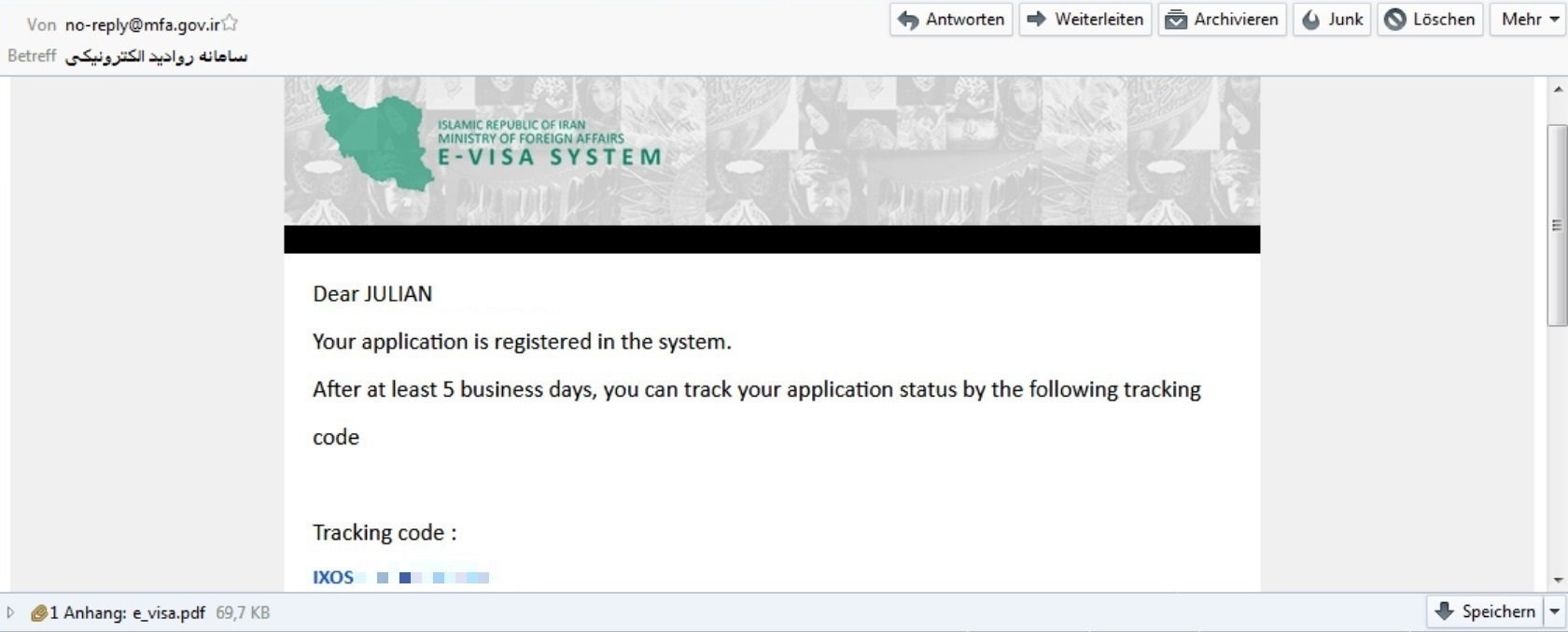 🛬 Apply for an On-Arrival Visa
The on-arrival visa can be easily applied for at the airport of Tehran or Isfahan. The following documents are required:
Hotel confirmation (sufficient for the first night)
Travel insurance abroad* (with the note Iran)
Curriculum vitae containing training and professional history
Passport valid for at least 6 months (without Israel stamp)
Itinerary (approximate itinerary)
Biometric passport photo
75€ fee in cash
Advantages On-Arrival Visa Iran
spontaneous Iran entry is possible
no long visa application (up to 3 weeks)
Disadvantages On-Arrival Visa Iran
long waiting time at the airport
(especially when arriving in the middle of the night)
no clear processes (running back and forth from switch to switch)
slightly more expensive than the E-Visa (+50%)
no certainty to get the visa
Passport holders from USA, UK & Canada cannot apply for a visa on arrival!
Apparently the situation to get an On-Arrival-Visa is quite good, but I have heard from other travellers that up to 25% of all applications are rejected. I can't tell exactly it is true and also not the source. If you want to have a safe trip, an e-visa is more suitable for you.
🖥️ Apply for an E-Visa Iran
1. Preparation Iran Visa
The e-visa can be applied for online without any problems. Only the following documents are required:
Hotel confirmation (sufficient for the first night)
Travel insurance abroad* (with the note Iran)
Passport valid for at least 6 months (without Israel stamp)
Curriculum vitae containing training and professional history
Itinerary (approximate itinerary)
Biometric passport photo (400×600 max. 240kB)
Scanned passport (800×600 pixels max. 500kB)
2. Fill out the online visa application form
You go to the website of the Iranian Embassy click on "Individual and Travellers" and fill in the Iran visa application form as follows.
2.1 Upload passport & biometric photo
Visa Type: For a normal tourist visa "Tourist" must be selected. When travelling with your family, for business or other reasons, the appropriate visa must be choosen.
Nationality: The country of your origin must be specified.
Type of Document: For an ordinary passport, select "Ordinary".
Personal Photo: See point 1 for requirements.
Passport Copy: see point 1 for instructions
Place of Issue: Where should the visa be issued? This is not the place where your passport is issued, but the place where you want to pick up your visa.
Enter the security code and click on "Save and Proceed".
2.2 Fill in your personal data
On the second page all personal data including passport number, biometric passport photos and passport copy must be entered. You will also need to enter your father's name and other details about yourself. If you don't know your father's name, you can simply write N/A (not available) in the field according to this source.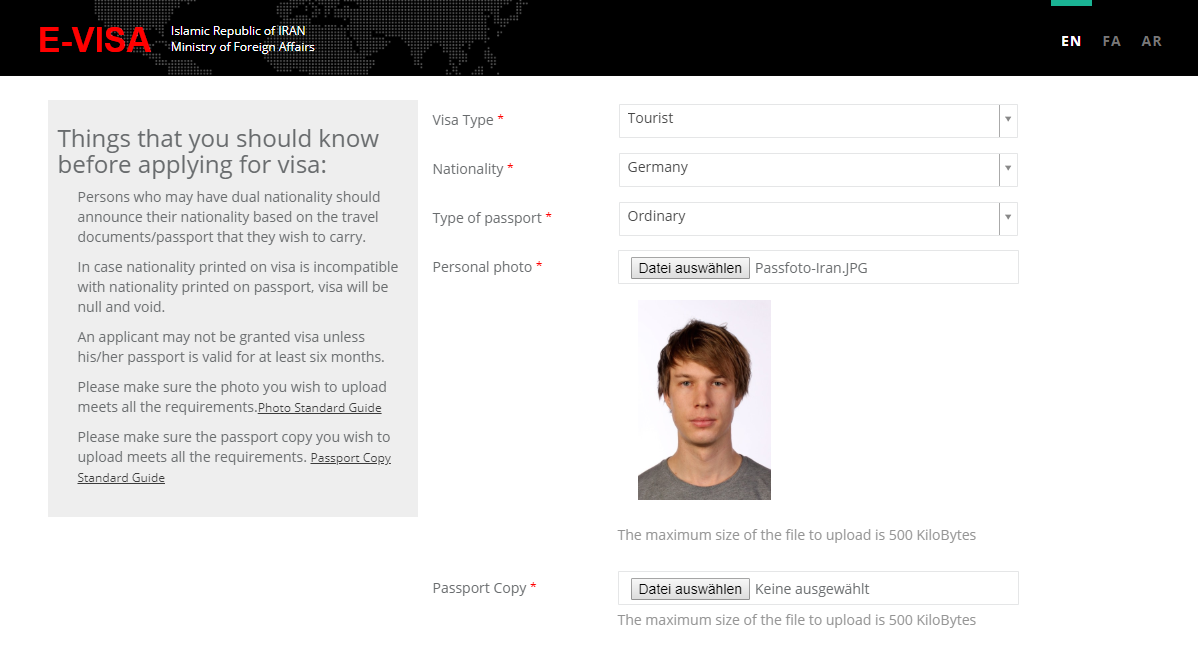 2.3 Double check everything
At this point, check again very carefully that all entered data are correct. A wrong passport number or a spelling mistake in the name can lead to a rejected Iran visa. The worst thing about it is that you are not told why you have a rejected visa. So really check carefully!
2.4 Tracking number + PDF document
Finally, you will receive a confirmation email from the e-visa system with the subject سامانه روادید الکترونیکی as confirmation. You must click on the link in the email to verify your email address. You will then receive another e-mail with a visa document in PDF format. You will need this printed out in the last step at the embassy. With the given tracking number you can check your status. As soon as the status is changed from "Waiting for Verification" to "Accepted", you can continue with step 3, paying for the visa.
The email with the confirmation will end up in the spam folder of many travelers or will not arrive at all. So don't use @Gmail addresses!
2.5 Checking the status of your application
You can check the current status of your visa on the Embassy website under "Check Application Status". All you need is your tracking number or passport number including date of birth or e-mail address.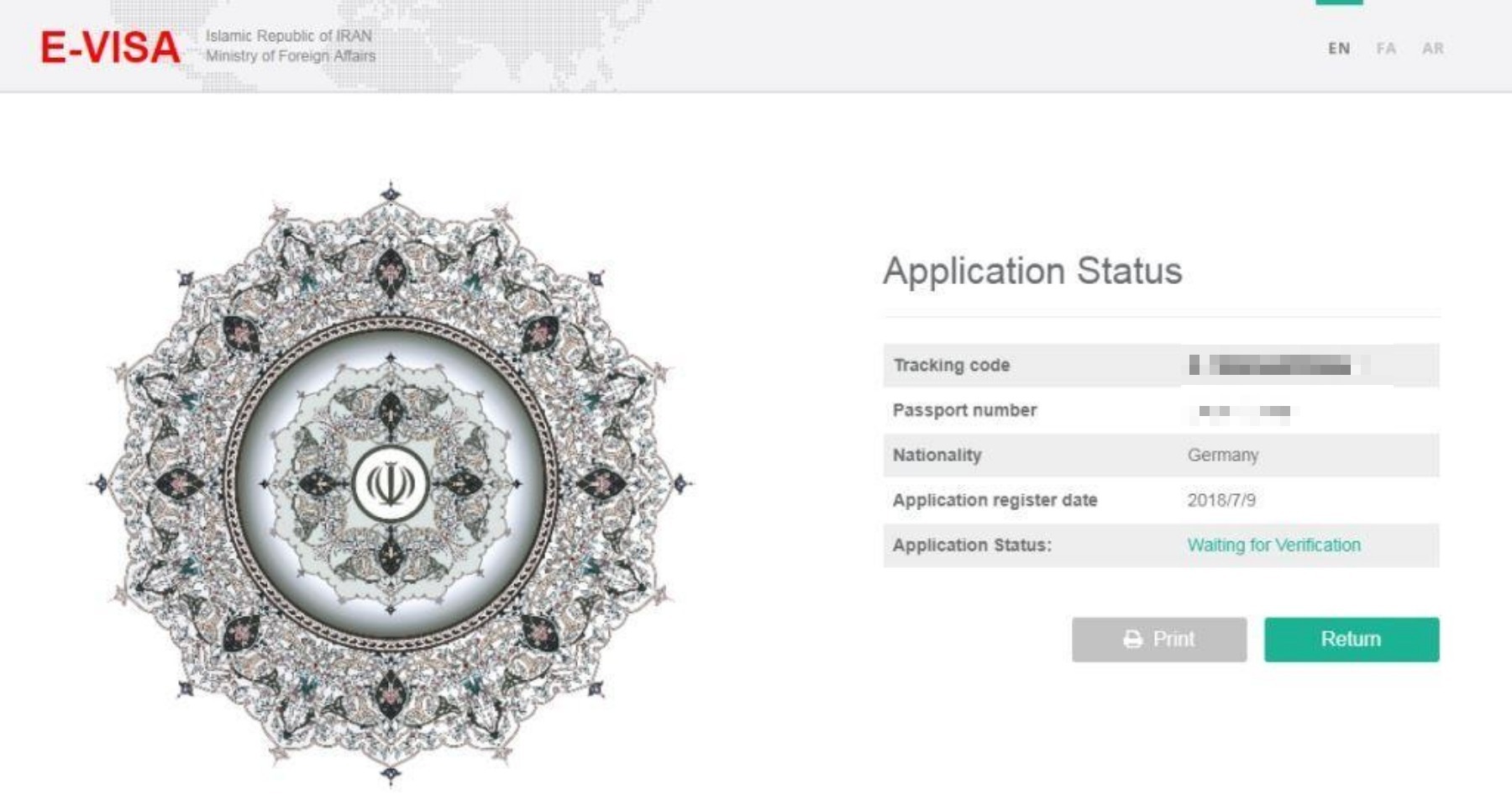 3. Pay for your visa
Once the status has changed from "Waiting for Verification" to "Accepted", you must transfer the cost of the visa to the Iranian Embassy. Currently this costs 50€ for tourists in Iran, 60€ for business visa and 80€ for journalists. The current costs for the visa can be found here. The price overview and the current IBAN number can be found on the embassy's website. The website is a total disaster, but should be more or less up-to-date. You have to print out the bank transfer receipt after paying and present it when you pick up your visa.
Money already paid for the visa will not be refunded. So if you transfer too much or the visa is denied to you, then the money is completely gone. There is no right to a refund.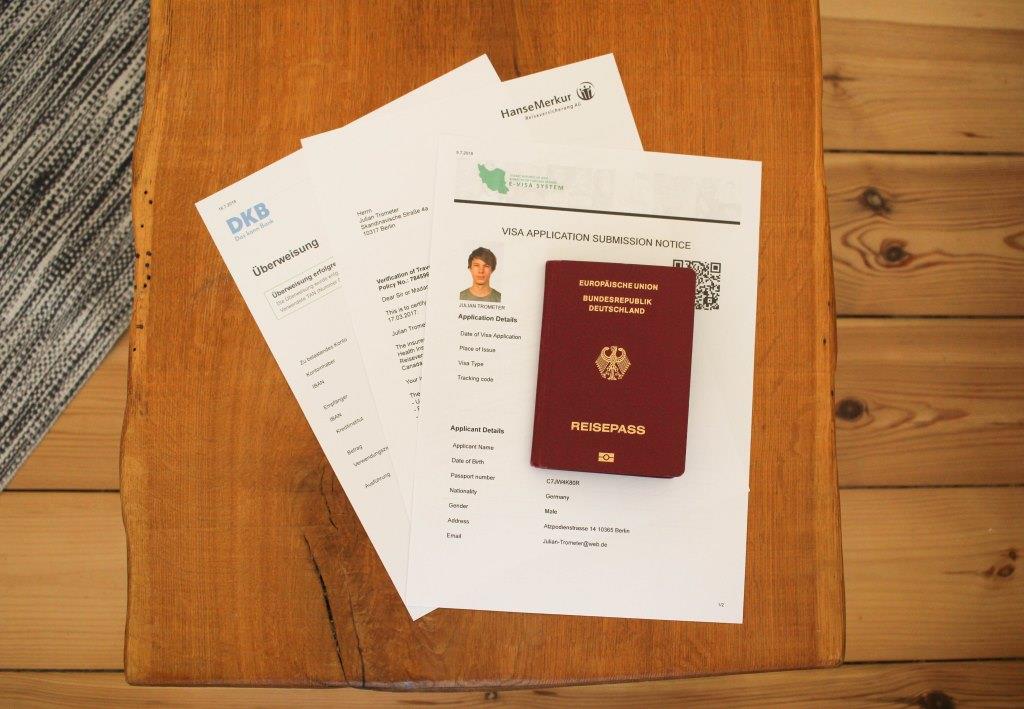 4. Submit the visa application to the embassy
Once you have paid for your visa, you can go to the Iranian consulate with all your documents and hand in your documents including your passport. Remember to take everything with you and don't forget anything. Otherwise, you will have to go to the embassy again. If you cannot appear in person, it is also possible to send your documents including a stamped envelope to the consulate. You will then receive your passport back with your visa in.
Passport (valid for at least 6 months, no Israeli stamp)
Certificate of a foreign travel insurance with Iran Note (from point 1)
Completed visa application form (from point 2)
Receipt for payment of visa fee (from point 3)
Optional:
Franked return envelope for returning the passport
Copy of the document of withdrawal from Iranian citizenship for Iranian citizens who have left their citizenship and wish to travel to Iran with foreign travel documents.
Iranian marriage certificate of parents and father's permission for children under 18 years of Iranian mothers whose father has a foreign nationality.
5. Apply for a visa at the consulate
After about two weeks processing time, depending on the consulate's information, your visa is ready for your visa to be collected. If everything goes well, you should have your visa at this point and can book your flight and start planning your trip to Iran. The new visa consists a white piece of paper that is placed in your passport. There are no stickers or stamps any more!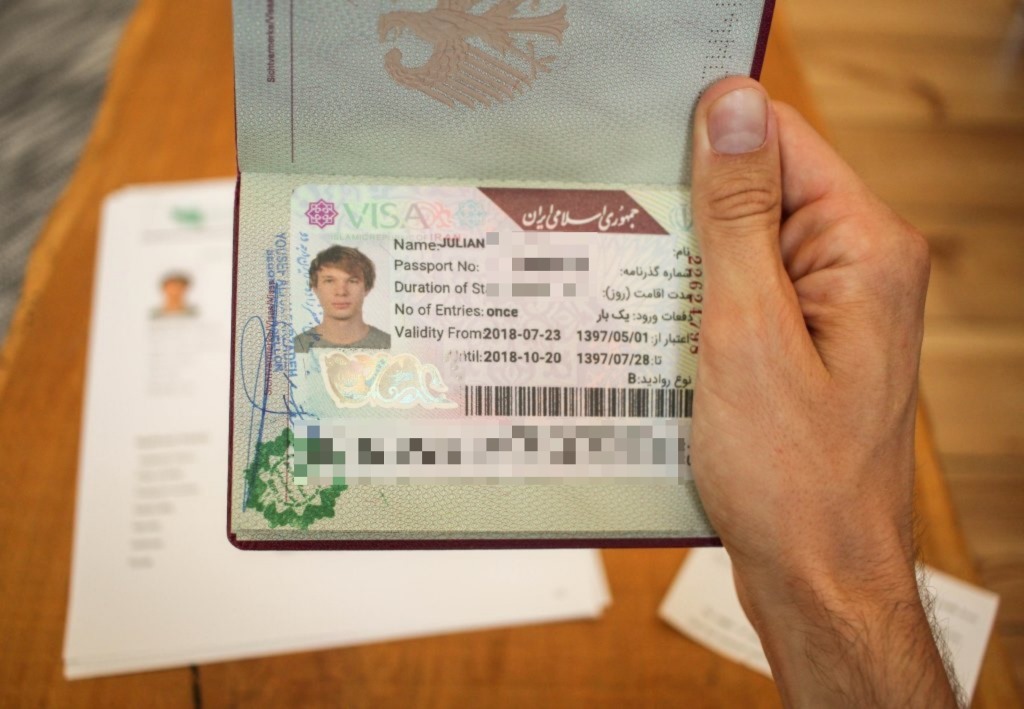 ✋ Entry problems
Israel » Iran With an Israeli stamp in your passport, you are not allowed to enter Iran. You will not be issued the E- or On-Arrival Visa. In the worst case, this means sitting at the airport in Tehran and organizing a return flight. The whole thing can easily be avoided, however, if you have the visa stamp on an extra sheet during your trip to Israel and therefore do not have a stamp directly in your passport. With this method you can enter Iran without any problems.
Iran visa rejected
Your visa may be rejected depending on the countries you have visited or other reasons. In addition, you may be banned from certain countries or you may have to undergo long interviews. In my guide to Iran overland travel I wrote about the possible entry problems of USA » Iran as well as Iran » Israel & USA and what you can do after a rejected visa.
👍 Conclusion Iran Visa
After a long back and forth and with the many misunderstandings when applying for a visa, it is clear to me that this is a rather complicated visa. The reason for this is that there are very few reports online and the embassy and visa agencies give very confusing information about the reference number. The process could be made much simpler. However, through all the chaos, this article has also been created to simplify the process and hopefully save time and money. In this sense a stress-free application.
Werbung